Moms around the world are taking interest in the "eco-friendly" movement and looking for that green label before making a purchase. If the item is tagged all-natural, organic, recyclable or environmentally friendly, there is a pretty good chance that will make it into the shopping cart over the competition. As we continue progressing to a more natural way of life, educate yourself on what you can do to heal our planet and green your home.
Here is a unique look on ways to green your home from the inside out. You may be surprised how much you can do to protect your family and home from harsh chemicals.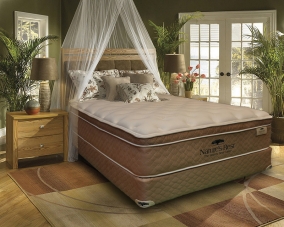 Did you know the average person spends 22 years in their bed? That's a long time! If you are conscious about the environment organic bedding can make 22 years difference in protecting your home. Also, if you have allergies and can't seem to get a good night's rest, try organic bedding. Studies show it works because you aren't sleeping on chemicals and dyes. There are several types of organic bedding made from all-natural fibers such as bamboo, soy silk, hemp, cotton and more. These sets are made with all- natural dyes and are biodegradable. Put your allergies to rest and sleep heavenly on 100 percent hypoallergenic natural bedding. If you are going to spend a quarter of your lifetime sleeping, choose organic sheets to heal the environment as you dream.
Another unique way to green your home is by paying attention to the cotton in your pillows, and cushions. There is a big difference between organic cotton and conventional cotton. I bet it never crossed your mind that cotton is the most heavily chemically sprayed crop in the world! Conventional cotton is made with toxic chemicals and harsh dyes that hurt our environment. These chemicals surround our children and families daily. However, there is a healthy alternative that we should consider. Organic cotton! It has softer and higher quality fabric plus it saves energy and reduces the amount of pollution in the environment. Luckily, chemical companies that use fabrics such as Sunbrella and BioComfort are mindful of chemical waste and provide an eco-friendly organic option in beautiful colors, patterns and designs to customize the perfect cushions and pillows. Before you purchase your next set of patio cushions for spring, do the research and find out what is safe for our planet and your home.
Also, consider decorating with live plants. Plants not only provide beauty to your home, but they are also good for cleaning the air. Plants have the power to absorb harmful chemicals and make your living space a pleasant experience. Gerbera daisies, peace lilies, english ivy, bamboo and chinese evergreens are a few of the most popular houseplants that excel in removing harsh chemicals throughout your home.
Paying attention to your curtain fabrics is another great way to turn the inside of your home into an environmentally friendly space. It is all about choosing the right fabric with the least amount of chemicals. Again, Sunbrella fabrics are environmentally friendly and beautiful. Sunbrella is committed to the safest form of dying, extreme durability and energy consumption. Sunbrella curtain fabrics are Green Guard Certified for indoor air quality.
Last but not least, the easiest way to go green in your home is to choose your water bottles and shopping bags wisely. Making simple changes such as these can make a major difference in the environment. Stores now allow customers to use eco-friendly recycled bags to do their shopping. Next time you pick up or throw away that plastic bag or bottle remember it is non-biodegradable, which means it is landfill waste and litters the environment. Reuse your water bottles and plastic bags and always remember the three Rs: reduce, reuse, recycle.
Whitney Hicks is a marketing coordinator at Cushion Source and enjoys sharing home organization tips to turn your home from ordinary to extraordinary.